Award, Certificate, and Record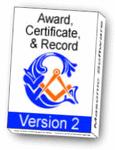 The Award, Certificate, and Record (ACR) is three products in one package. The ACR includes the ability to print awards and certificates, Masonic records, and degree work boilers for EA, FC, MM, AASR, and YR. The awards and certificates will show the Brothers in your Lodge how much they are appreciated. This product can be the start of your "Awards Night."
With this product, you can also print your own Records. All you have to do is add the name, dates, and lodge seal. If you currently purchase your Lodge records and type them, this will save you time and money. In addition, we also ship the degree work boilers. When a Brother is raised, an entire "package" with the Masonic Record. If you do not present a Masonic Bible, our product is the next best thing.
Benefits:
Save time and by using our nice templates
Perfect for the Masonic officer, or "Awards Night" coordinator
Get excited again, about Masonic research
Our Premium Graphics will provide you quality Masonic graphics People appreciate being recognized
Show your candidates that your Lodge is organized
Detailed description of Award, Certificate, and Record features:
Templates and Boilers
28 templates in four categories (there are a total of 109 templates. Each template ships with at least four print choices black, blue, red, and purple):
Masonic
General
Fun
Masonic Record (Traditional Blue and Black colors only)
8 boilers in five categories:
Appreciation
Excellence
Training
Outstanding Service
Meritorious Achievement
5 Degree work boilers in three categories:
EA, FC, and MM
York Rite Record
AASR Record
Premium Graphics
Our premium graphics are a set of graphics that you can color, resize, and change. You are in control and not limited by what someone else thinks you should have. We include an instruction manual and RGB (color) list to help you pick the correct colors for your project.
Our premium graphics will change how you use Masonic graphics. Our testers wanted three things from our graphics: quality, choice and ease of use. That is what we delivered.
The Award, Certificate, and Record includes 20 graphics in four sections:
Blue House - All the graphics of EA, FC, and MM
Square and Compasses - EA, FC, MM, and Past Master
Eastern Star - All the seats of the Eastern Star included
Masonic Fonts
Two Masonic Fonts:
Masonic graphic font
Masonic writing font
3rd party software
Adobe Acrobat Reader to read your eBooks
Paint.net to work with graphics
Computer Requirements
Microsoft Windows 2000, XP, Vista, 7, 8, or 10
Microsoft Office Word or Word Perfect or OpenOffice.org (OpenOffice.org is free)
CD or DVD drive to install the software
Computer monitor with at least 256 colors and at least 800 x 600 resolution
At least 75 MB of free hard drive space